In the United Church of Canada we believe that faith is not a static thing but rather a life-long process of growing, questioning and changing.  Finding a Church family where you feel both comforted and challenged as you continue your faith journey can be a long and deliberate process.  It is important to be surrounded by love yet encouraged to reach out beyond your comfort zone to love and to serve others.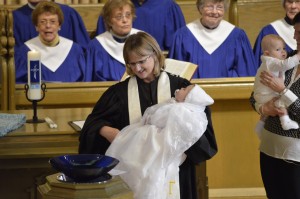 "Baptism with water into the name of the Father and the Son and of the Holy Spirit is the sacrament by which we signify and seal our union to Christ, and participate in the blessings of the new covenant". The United Church of Canada requires that parents of a child being baptized should be active members in a congregation.  The sacrament of baptism is a welcoming into community, a community where a child will be nurtured in the Christian faith and the people of St. John's , on the day of the baptism, make promises to support you, as parents, in that important task.
While you may not currently be members of the United Church we will encourage you to think about taking that important step.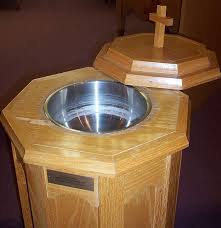 A sponsor will stand with your family on the day of the baptism and present you with a baptism candle. Your sponsor will  keep in touch with you over the coming months and years to let you know about special services, and inquire about ways our congregation can continue to support you in the spiritual development of your children.
Please contact Sheila at sheila@stjohnsunited.ca to obtain more information or to talk about a baptism for yourself or your child.
We look forward to meeting you at a worship service in the near future and to welcoming you and your family into the life of our congregation.