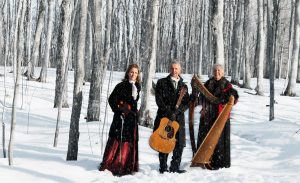 Award-Winning Celtic Harpist to Perform with Harp & Holly in Hometown Oakville
Canada's most prolific and influential Celtic harpist Sharlene Wallace joins violinist/violist Sandra Swannell and fingerstyle guitar virtuoso Terry Young in bringing their annual concert celebration of Christmas to Southern Ontario. Harp & Holly's music is a poetic blend of Celtic, New Age and Baroque sounds.
Harp & Holly's Ontario tour includes a performance at St John's United Church in Oakville on Sunday Dec 18th at 7:30 pm.
Oakville's own Sharlene Wallace is a winner of two international competitions, the Lyon & Healy International Pop & Jazz Lever Harp Competition (Tucson, Arizona) and the Concours d'Improvisation de Rencontres Internationales de Harpe Celtique (Dinan, France). She says "I'm thrilled and excited to have been invited to be part of this Christmas' Harp & Holly tour". Sharlene is also the principal concert harpist with the Guelph, Oakville, and Kingston Symphonies.
Sandra Swannell and Terry Young are no strangers to the Ontario music scene. Both Canadian Folk Music Award winners and former members of the group, Tanglefoot, the pair spends the regular season touring the US and UK extensively with their folk-jazz group, My Sweet Patootie.
Harp & Holly audiences will be treated to a family-friendly enchanted world of Christmas reverie with stirring arrangements of ancient carols, jubilant seasonal favourites and poignant storytelling.
Ticket $20 available at the door. Children 12 and under free.
Visit www.harpandholly.com for more information and advance tickets.
To listen to Harp & Holly, go to the following link; 
https://soundcloud.com/harp-452316675/sets/harp-holly-sampler