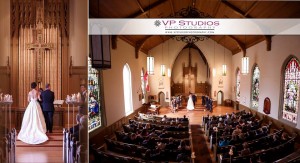 At  St. John's United Church, a wedding ceremony is a rite of blessing available to committed, caring couples regardless of religious denomination or church membership. We believe God intends loving relationships to be faithful, responsible, healing, and sustaining for the couple and those around them. As a faith community, we welcome couples who choose to commit their lives to each other in the sight of God. Inter-faith services can also be coordinated with our ministers.
Please contact our wedding coordinator for date availability-a meeting and tour can be scheduled at your convenience. For an application and wedding package, please email cindy.mccuaig@stjohnsunited.ca or call Cindy at 905-808-9188.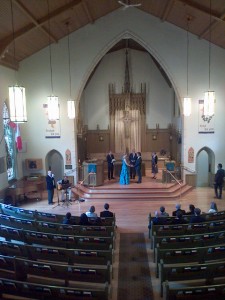 Our fee is $1,000.00, and this includes:
Use of our Sanctuary for the service, and both the Sanctuary and gardens for photography afterwards.
Ceremony planning, and officiating by one of St. John's ministers.
Consultation, and attendance at the ceremony of our Director of Music to play organ or piano.
Rehearsal space and time before your wedding.
Custodial service.
Sound system, and coordinator to assist with the flow of your wedding.
Parking in our lot for the wedding party and family members.
You can plan your wedding for any day or time between Monday and Saturday. We do not usually hold weddings on Sundays as the sanctuary is in use for our regular Sunday services.
Our sanctuary, including the balcony, holds 450 people comfortably.
Our wedding coordinator can also advise you in regard to other aspects of your wedding. We have experience and contacts locally with photographers, restaurants, banquet halls caterers and wedding planners.